The Sonoma Witches by Gretchen Galway - a paranormal mystery series
---
You're missing out if you love paranormal mysteries and haven't read Gretchen Galway's Sonoma Witches.
I came across this series when the first book, Dead Witch on a Bridge, was available as an ARC on NetGalley. I had just set up my account on the platform and was browsing the titles. Dead Witch on a Bridge was the title that made me stop scrolling. I remember how excited I got when I got the email saying my ARC request had been approved and I could start reading. This was my first paranormal mystery. I was immediately swept into Alma Bellrose's world, where magical creatures live amongst unsuspecting humans. In a way, it was reminiscent of the Harry Potter world-building, where humans are referred to as nonmags. But that's where the resemblance ends.
About The Sonoma Witches series
The story follows Alma Bellrose, a witch with an incurable inability (she couldn't kill a demon) who's been 'honorably discharged' from the Protectorate No longer an agent of the Protectorate, Alma had to find other means to earn a living, so she now sells magic-infused beads made of redwood. Since this is a paranormal mystery series, expect a new murder in every book, and Alma is somehow pushed (or coerced) to solve it despite being no longer an agent.
What I love most about this series is the fantasy-mystery blend and the intriguing character, which are never what they initially seem. Gretchen's books are filled with mystery and red herrings. The lack of predictability makes for a real page-turner.
When this blog post was published, the first three books of the Sonoma Witches were on sale. Depending on when you read it, this may no longer be true. But I recommend you try this series even if it's no longer on sale.
Let the Sonoma Witches cast their spell over you in the first three books of this enchanting paranormal mystery series. Lose yourself in over a thousand pages in this delightful collection of magic, detection, and suspense.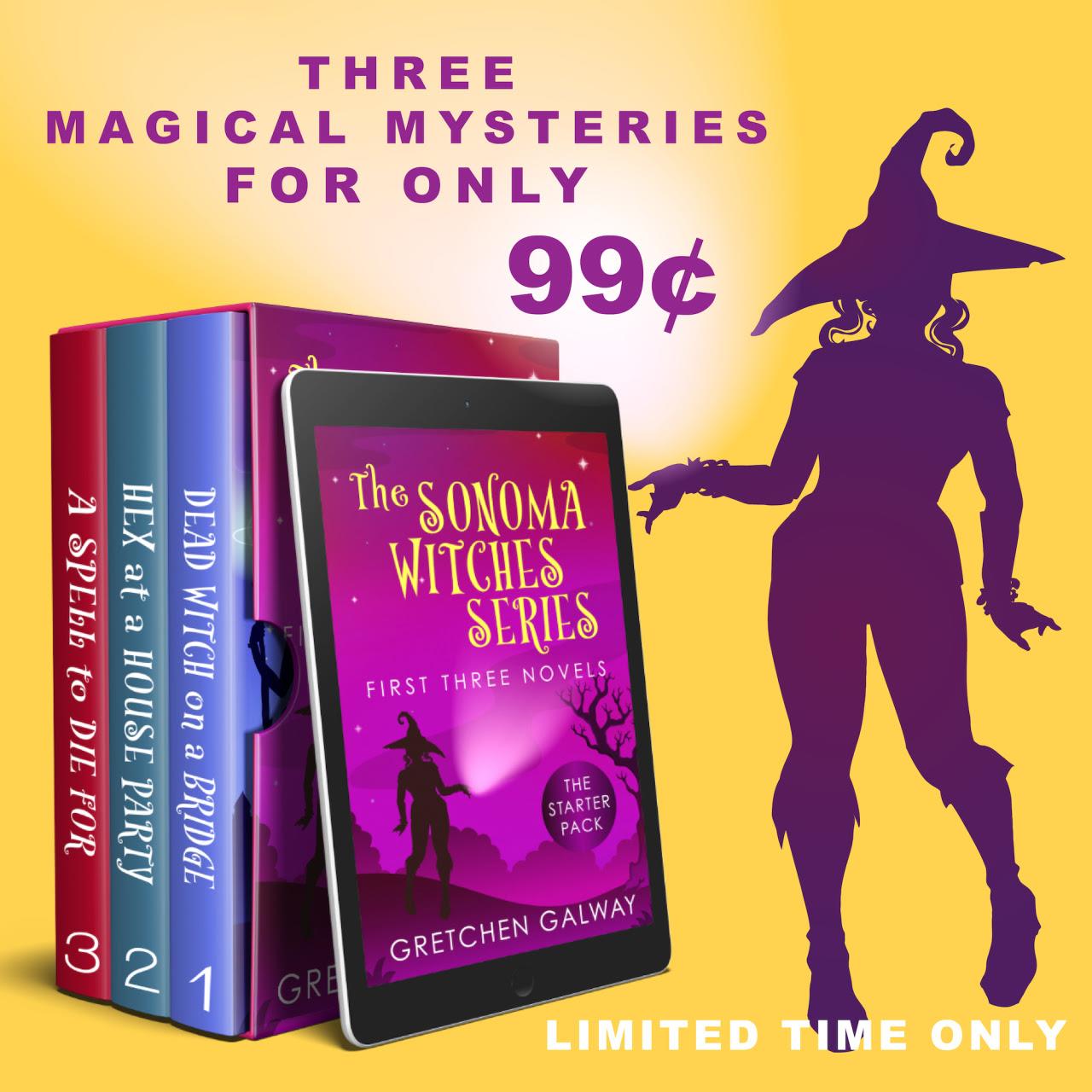 Dead Witch on a Bridge - Book 1
Witch and ex-demon hunter Alma is drawn back into the world of magic to solve a murder mystery.
Hex at a House Party - Book 2
Alma needs to find a killer at a witch society house party before she's the next victim.
A Spell to Die For - Book 3
Alma unmasks demons to uncover a secretive killer that threatens her supernatural town, her friends, and herself.
The other two books in the series are not part of this promotional pack, but I'll list them below so you can get them if you want.
Charmed to Death - Book 4
On the eve of the winter solstice, reckless witches invite demons into the enchanted town of Silverpool. Can Alma find a human murderer amid the magical mayhem?
Murder by Magic - Book 5
Life is never boring for ex-demon hunter Alma Bellrose, even if she'd like it to be. Can she use her developing powers to unravel a century of family secrets and save her friend's life—or will an old curse claim another victim?

New book covers
You may have noticed that my reviews showcased different covers. Those were the original ones when I got the book, but yesterday, Gretchen Galway announced she had new covers to better match the witch detective vibe. I think they look great!
If you decide to give this series a shot, I hope you enjoy it as much as I did.
Happy reading!