---
I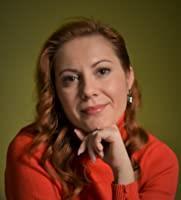 t all started in my head…
I've made up stories in my head since I can remember. As a kid, I would watch cartoons for about half an hour a day, but the adventures didn't stop when the Tv got turned off. I would go outside and dream of stories in the same universe while hanging upside down on the monkey bars or waiting for my turn on the swing. You could say that were the early stages of fanfiction.
In 3rd grade, I was watching a kid's Tv-Show about a boy and his dog, Lassie, that inspired my first story: Nina's Cat. Of course, mine was a short story revolving around a girl and her cat. I don't remember much about it, but I had fun writing it.
School Years and writing
A couple of years later, we started learning English and whenever we had to write a story for homework I would turn in two or three. They were riddled with mistakes as I was still a beginner in English, but I had so many ideas that I couldn't settle for one. That earned me the nickname Anca's factory as the teacher called me a story factory.
Years passed and I got busy being a teenager. I didn't enjoy reading at this point because both teachers and parents insisted that I had to. Needless to say, I do not like being told what to do. I was pretty resilient and read barely enough to get good grades.
University and reading
After high school, I started my classes at the University of Bucharest within the Department of Communication Sciences of the Faculty of Letters. In a nutshell, my studies were focused more on communication on an analytical and interpretive level such as PR, marketing, and advertisement, and less on the literary aspect of it.
Unrelated to the curriculum, that's when I discovered my passion for reading. A friend loaned me a book by John Saul and I couldn't put it down. I stayed up until 4:00 to finish it in one sitting. Sadly, I don't remember which one it was, but since that day forth I started devouring books. Luckily, I had a library card since otherwise, I wouldn't have been able to sustain such an expensive hobby.
The sagging middle
After graduation, I enrolled in a Master's degree in Management and Business Communication. Around the same time, I got married and got pregnant so in the middle of starting a family and figuring out my career, I didn't have much time for books. There was no writing (except for academic purposes) and minimal reading ( mostly what to expect when you're expecting kind of books).
The Comeback
Being a young mom was challenging so three things happened.
1. My cooking skills got much better
2. I got addicted to tv-shows, which lead to writing fanfiction and discovering that others enjoyed my writing style.
3. Discovering fantasy books and starting reading again.
I started working on my first book in the same genre I loved reading: fantasy.
So, here's some context!
Every time I would go to the park with my baby, I would share the space with all the other mothers there excited to chat your ear off about parenting trends, potty training, and food recipes.
Perhaps I should mention that I am the poster girl for the extreme introvert. I neither liked nor cared about their chit chat, so I tried reading but somehow they took it as a sign that I was bored and in need of being included in the conversation. For some reason, they'd leave me alone if I was writing.
That's how my first novel started. I would bring a notebook to the park and make rough sketches, character traits, bits of dialogue, and random thoughts on mythology. At this point, I wasn't planning on publishing just creating a story to distract me from the chatting moms.
The rough patch
Sometimes, life gets in the way. Working on my story had ups and downs, I had no deadlines and no future plans. Being a mom is a full-time job so I abandoned my story mid-chapter 10.
About six years later, my husband found it and read it. Now, he doesn't read much fiction and especially not fantasy, yet he thought it was worth publishing. So he encouraged me to finish the story, gave me some solid advice on how to change some things that weren't working and fix some plot holes. Several months later, the first draft was finished and ready for editing.
New beginnings
While I was still polishing my debut novel, I decided to start a blog which is how Summon Fantasy was born. I had a million ideas and they all revolved around fantasy. The first stories to get posted on my blog were my fanfiction. Around the time I was envisioning the plot of my book I tried my hand at writing fanfiction for a couple of tv-shows (Blood Ties and Lost Girl). The awesome reviews I got were encouragement enough to start working on my own novel. As I did that, I also started reviewing fantasy novels and post various book recommendations. I do my best to post regularly exciting content.
The climax
In January 2020, Forget Me Not finally got published and is now available for Kindle and as a Paperback. So far, it was well-received and reviews are still coming in, the majority of which are on Goodreads.
As soon as I finished with the publishing process I delved into the next part. This time, I decided to outline the story better to give the novel more structure and avoid the saggy middle. Having a plan makes writing easier and dare I say even helps against writer's block.
The end of the Chimera Trilogy was published in 2022, and new books are in the works.