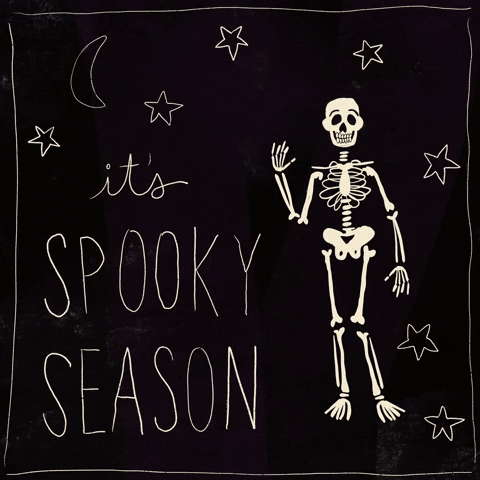 Get ready for the spooky season with these fantasy books!
A dark fantasy Norse myth retelling for fans of Circe, The Witch's Heart, and The Silence of the Girls
Perhaps you know the myths.
Furious, benevolent Gods.
A tree that binds nine realms.
A hammer stronger than any weapon.
And someday, the end of everything.
But few have heard of me.
Looking back, it's easy to know what choices I might have made differently. At least it feels that way. I might have given up on my title. Told my father he was useless, king of Gods or no, and left Asgard. Made a life somewhere else.
Maybe I would never have let Loki cross my path. Never have fallen in love.
But there's no going back.
We were happy once.
And the price for that happiness was the end of everything.
DEFY FATE. DEFY GODS. DEFY EVERYONE.
When Oben's farm is sacked by marauding Skalgs, he embarks on a deadly quest for revenge, leaving pious Edale behind to enter the godless north.
But Skaligar is a strange place, and his enemies are full of surprises, which will push his endurance and his faith to their limits. He finds himself an unwitting pawn in their ancient prophecy; one which tells of a Conduit who will deliver Edale into their hands.
If Oben is to see his homeland again, he must not only survive, he must prove the prophecy wrong, whilst exacting vengeance on those to whom he grows ever more bound.
An assassin, a powerful dagger, and a magic that shouldn't exist.
Shadow magic is extinct. The Veil Worshippers who honor the shadow god's wall are hunted for their artifacts, including the Veil shards that break off the wall in Valisea.
Brela vows to steal it all back. With the dagger of her people and a Veil shard embedded in her collarbone that has infected her with shadow-cursed magic, she is determined to keep her secrets or suffer a fate worse than death. That was a lot easier when the uptight and infuriatingly handsome Captain Cason Valkip wasn't hunting her.
Cason has spent his entire life hiding—from the raids on Valisea, from his emotions, and from his multiple gods-blessed magics that everyone is afraid of… everyone except Brela. The chaotic, non-magic wielding assassin who drives him insane is also the only person who has never looked at his tainted magic without any ounce of fear. Which is why being forced to work with her to discover the source of the breaking wall sets his already uncontrollable fire magic ablaze.
With tension growing in the remaining kingdoms and mythical beasts threatening her at every turn, Brela's secrets might not remain hidden for much longer. To survive, she will have to work with the one man who could burn her.
Because if shadow hell is released, no one will be safe.
For fans of Sarah J. Maas's Throne of Glass series, Leigh Bardugo's Shadow and Bone, and S.M. Gaither's Shadows and Crowns series. Dive into this epic, enemies to lovers fantasy with magic, found family, and knives. Lots and lots of knives.
Top favorited Kindle Vella story in fantasy, magic, enemies to lovers, epic fantasy, assassins, and sword and sorcery.
TW: This book contains explicit content and dark elements, including language, violence and torture, mature romantic scenes, and mentions of abuse.
An action-packed epic fantasy adventure perfect for fans of Brandon Sanderson, Brent Weeks, and Robert Jordan
After a supernatural and unforeseen calamity shatters the tentative alliance of the five realms, the Deseran Dominion has returned to take back their homeland and restore their oppressive regime.
As the Dominion readies their troops for invasion, the fate of the entire world rests in the hands of a fugitive scientist, a powerful pacifist, and an unseasoned prince with little to guide them but their own ideals. With the freedom of a kingdom at risk, each must find their place in a world torn asunder.
The Seventh Cadence is a sweeping high fantasy epic of war, found family, and reckoning with fate.
When the saints fail, the sinners step up.
Cruel gods rule the steam-powered city of Chime, demanding worship and tribute from their mortal subjects. Kayl lost her faith in them long ago, and now seeks to protect vulnerable and downtrodden mortals from their gods' whims. But when Kayl discovers powers that she didn't know she had—and destroys a mortal's soul by accident—she becomes Chime's most wanted.
Quen's job was to pursue sinners, until the visions started. Haunted by foreboding images of his beloved city's destruction, Quen hunts soul-sucking creatures made of aether who prey on its citizens—and Kayl is his number one target.
To ensure Chime's future, Kayl and Quen must discover the truth of Kayl's divine abilities before the gods take matters into their own hands.
For a city that bows to cruel gods, it'll take godless heathens to save it.
The Thirteenth Hour is the first book in The Cruel Gods series—a gaslamp fantasy featuring magical portals, gothic cosmic deities, quaint Britishisms, and steampunk vibes. This is an adult book containing strong language and mature themes that some readers may find disturbing. 
A slave shall rise from the ashes to master dragons.
Born into slavery, Mai's horizons are limited to one simple desire: to catch the eye of a handsome mate. She dares not dream for more, for like all humans, she's been taught from birth that her life belongs to the orcs, her destiny to serve.
But her world is upended when Aralas, a messenger from the elf gods, reveals blasphemous truths: humanity was created to be free; and hope—if it can be called that—lies in the jaws of the dragon Avarax, whom only Mai can charm with her unique voice.
Torn, overwhelmed, desperate to hope yet terrified of failing her kind, Mai has until a rare conjunction of moons to master magic that takes lifetimes to learn. Yet how will she discover who she really is when even her allies seek to control her?
Only by making the greatest of sacrifices will she manifest the power of a Dragon Song, and help mankind escape eternal servitude.
You cannot fix this world alone, selkie.'
'I know. But, when we die, all that is left are shadows of our lives preserved in the memories of those who remain. I plan on leaving an exceptionally long shadow, filled with ripples of moonlight for those I helped, and darker than the worst of nightmares for those who wronged us.'
How far would you go to save your skin?
I'm a selkie, trapped above the waves until I can recover my skin. Humans used to call us seal-wives many years ago – before they broke the planet. I thought that less humans, after the warming, would mean less danger. My kind believed our world was finally recovering.
We were wrong.
Up here, the magic is fading and Old Ones like me are being traded as trophies for rich and powerful humans to display in collections.
Without the Old Ones, the magic fades, without magic, the planet dies.
Humankind has gone too far and someone has to put a stop to it. I just wasn't expecting it to be me.
Raised by ghosts. Trained by gods. How far will he go to save those who betrayed him?
Abandoned in the wilderness, Lekore lives with ghosts and fallen gods, until his efforts to rescue a traveling princess and her entourage bring him into a civilization unlike anything he's ever known.
Caught in a net of silk and secrets, Lekore finds himself ensnared by court intrigue, midnight assassins, and a deviant faction of the Church of the Sun Gods—all thirsting for his blood.
He just wants to find the man who deserted him, until a storm rises out of the north, furious enough to destroy the city and outlying lands. Now Lekore must find the source of its wrath, deep in the wilds of the deadly Lands Beyond, if he can flee a city that won't let him escape.
Once upon a time, there was a horrible girl…
Vanja Schmidt knows that no gift is freely given, not even a mother's love–and she's on the hook for one hell of a debt. Vanja, the adopted goddaughter of Death and Fortune, was Princess Gisele's dutiful servant up until a year ago. That was when Vanja's otherworldly mothers demanded a terrible price for their care, and Vanja decided to steal her future back… by stealing Gisele's life for herself.
The real Gisele is left a penniless nobody while Vanja uses an enchanted string of pearls to take her place. Now, Vanja leads a lonely but lucrative double life as princess and jewel thief, charming nobility while emptying their coffers to fund her great escape. Then, one heist away from freedom, Vanja crosses the wrong god and is cursed to an untimely end: turning into jewels, stone by stone, for her greed.
Vanja has just two weeks to figure out how to break her curse and make her getaway. And with a feral guardian half-god, Gisele's sinister fiancé, and an overeager junior detective on Vanja's tail, she'll have to pull the biggest grift yet to save her own life.
Margaret Owen, author of The Merciful Crow series, crafts a delightfully irreverent retelling of "The Goose Girl" about stolen lives, thorny truths, and the wicked girls at the heart of both.
An immortal monster hunter and a royal handmaiden embark on an epic journey to change their fates in this soul-stirring young adult fantasy novel for fans of The Witcher and The Last Unicorn.
By night, the Ankou is a legendary, permanently young mercenary—the most fearsome sword for hire in all of the Five Lands, and its most abiding mystery. But when the sun rises, a dark magic leaves him no more than bones. Cursed with this cycle of death and resurrection, the Ankou wants only to find the final rest that has been prophesied for him, no matter the cost.
When the kingdom of Kaer-Ise is sacked, Flora, handmaiden to the royal family, is assaulted and left for dead. Wounded, heartbroken, and the sole survivor of the massacre, Flora wants desperately to be reunited with the princess she served and loved. She and the Ankou make a deal: He will help Flora find her princess, and train Flora in combat, in exchange for her aid in breaking his curse. But it isn't easy to kill an immortal, especially when their bond begins to deepen into something more . . .
Together, they will solve mysteries, battle monsters, and race against time in this fantasy novel about sacrifice, love, and healing by Elysium Girls author Kate Pentecost.
---
Don't forget to subscribe to receive the best fantasy book recommendations!
---
Summon Fantasy contains affiliate links to products. I might earn a small commission if you chose to purchase any products from the links on this website. Your purchase helps support my work in bringing you book reviews and recommendations.